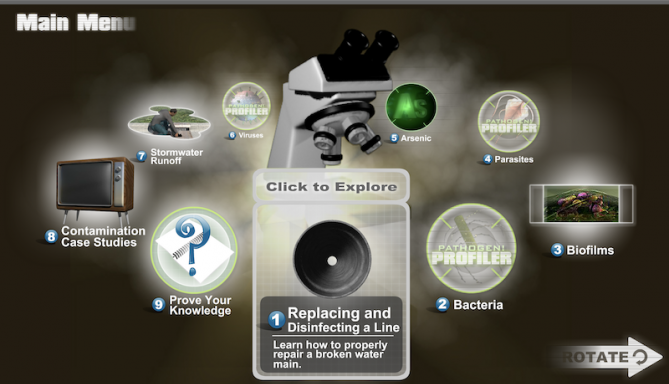 Between 2000 and 2010, CREWS partner the Montana Water Center created a series of online, CD, and DVD training resources for and small water and wastewater systems operators. Created through a series of grants from the EPA, these resources provided valuable training and continuing education opportunities, particularly for small, rural water system operators. Using the technology and tools available at the time, the media team at the Montana Water Center (MWC) developed programs covering ground water and surface water basics, water contamination, water quality, water treatment technologies, stormwater issues, and small water system operations.
More than 10,000 copies of each program (in some cases 20,000+) were freely distributed via disk to small water systems and state water departments throughout the country and US territories. Thousands have accessed the programs online or by attending hands-on workshops. Many states offered continuing education credits to small-systems operators for completing courses.
Based on continued interest and demand, and the belief that these resources can still provide valuable training and education for operators, Montana NSF EPSCoR has worked with the Montana Water Center to once again making these learning opportunities available.
To quickly make the resources available, they are posted using their original technology format (explicit instructions are included). Based on professional interest (number of downloads), the modules deemed most needed are being transformed into self-paced courses that will offer a certificate of completion.
Modules include
Water Quality Expedition
Operator Basics
Contamination Explorer
Virtual System Explorer
Stormwater Control
Sanitary Survey Fundamentals
Microbial Risk Assessment Tools
Point-of-Use Reverse Osmosis
To access the modules and learn more about how to download and use them, visit the Montana Water Center site