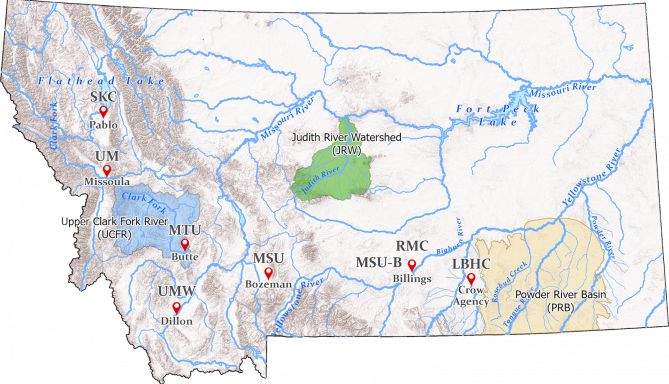 The Consortium for Research on Environmental Water Systems (CREWS) project is a five-year, $20M NSF EPSCoR RII Track-1 partnership between the University of Montana, Montana State University, Montana Technological University, Salish Kootenai College, Little Bighorn College, and business and government partners to study Montana's environmental water systems and specific water quality issues. CREWS' science focus is on water quality impacts related to hard rock mining, intensive agriculture, and energy extraction. The project brings together faculty and students from molecular science and engineering, environmental and earth science, synoptic signal and sensors technology, and natural resource social sciences to address National Research Council-identified challenges to develop a better understanding of how contaminants affect water quality. Topics tackled by CREWS include relationships between ground and surface water quality and chemistry, restoration of damaged ecosystems, development of field-deployable sensors, and strategies that integrate social science into cooperative research. Research activities will focus on three representative Montana water systems: 1) hard rock mining in the Upper Clark Fork River; 2) agriculture in the Judith Basin, and 3) energy extraction in the Powder River Basin. Research activities include studying the origin, persistence and transformation of contaminants in water and their impact on ecological and social systems. CREWS will support building new research competitiveness and infrastructure for the Montana University System (MUS) and partners in ways that advance workforce development, commercialization of project science, STEM education, and inclusion.
Start date: October 1, 2018
Project Components:
Study Site 1 - Upper Clark Fork River (UCFR): The CREWS UCFR team will study river productivity and ecological integrity, as well as develop technical solutions that address contaminants. Social science researchers will study how water quality issues and solutions are influenced by the people who live and work along the upper Clark Fork River.
Study Site 2 -- Judith River Watershed (JRW): The CREWS JRW team will conduct research on water chemistry and quality in order to understand the movements of nitrates and contaminants through soils, groundwater and streams. These efforts will lead to new technologies for removing contaminants from water systems.
Study Site 3 -- Powder River Basin (PRB): the CREWS PRB team will focus on understanding and mitigating the impacts of coal mining on ground and surface water quality. The goal of research in this region is to understand how sulfate compounds form and mobilize in coal-spoils aquifers.
Disciplinary Research Synthesis Areas:
Systems Ecology and Earth Sciences (SEES)

Molecular Engineering and Environmental Science (MEES)

Environmental Synoptics Signals and Sensors (ESSS)

Natural Resource Social Sciences (NRSS)
Broader Impacts and Engagement: Project research is integrated with internal and external engagement, networking, and training programs, including but not limited to:
Small Town STEM: Outreach program for rural K-12 students, citizens, and teacher training

Montana STEM Exchange: Outreach network connecting educators and organizations across MT

Montana Girls STEM Collaborative: programming and network to advance girls in STEM

Native Research Network: training and networking opportunities for Native American researchers at tribal colleges

CREWS Professional Development Certificate Programs: trainings and educational modules for project participants and working professionals

Institutional Collaborations for Innovation and Commercialization (IC2): commercialization networking and training program

Montana Water Consortium: state-wide network promoting partnerships between the research team, government, NGO and private sectors (a partnership with the Montana Water Center)