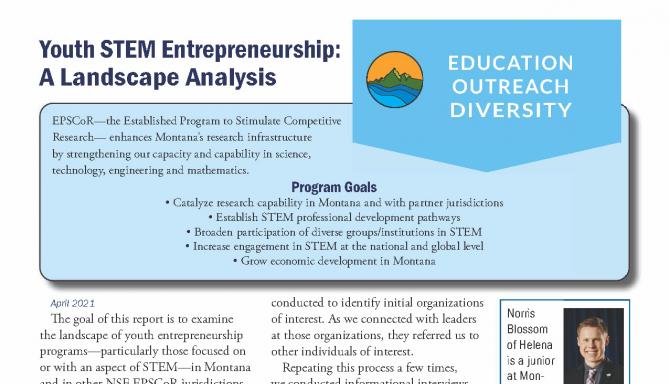 About Youth STEM Entrepreneurship in Montana
Montana NSF EPSCoR partnered with the Montana Afterschool Alliance to research how to bring the VentureLab ESTEAM youth curriculum to Montana in order to advance workforce skill development and STEM/STEAM learning. VentureLab is a nonprofit organization that is helping create the next generation of innovators and changemakers through entrepreneurial learning. VentureLab's ESTEAM program combines science, technology, engineering, arts and mathematics under the lens of entrepreneurship and gives students the knowledge to take their learning beyond the classroom.
This coordinated effort can:
a) build bridges between industry and education - one of the top priorities identified at STEM Summit 2019 (Montana NSF EPSCoR was a sponsor) - View STEM Summit 2019 Report
b) broaden STEM professional development pathways and increase the participation of diverse individuals (National EPSCoR goals)
c) help advance Montana NSF EPSCoR's strategic plan goal (section 2) of building the talent pool in STEM fields through strengthening programming at all levels, from K-12 through higher education.
d) support Montana's Science and Technology Plan goals of Economic Development and Workforce Development - View Montana Science and Technology Plan
Montana NSF EPSCoR worked with Montana State University (MSU) undergraduate student Norris Blossom, who completed a landscape analysis of youth entrepreneurship programs currently active in Montana. Norris also built bridges with Alaska NSF EPSCoR and New Mexico NSF EPSCoR, both of which have promising ideas and opportunities in youth STEM entrepreneurship. The resulting report gives an overview of Montana programs and offers ideas for next steps in growing this critical area of workforce development.
About the Report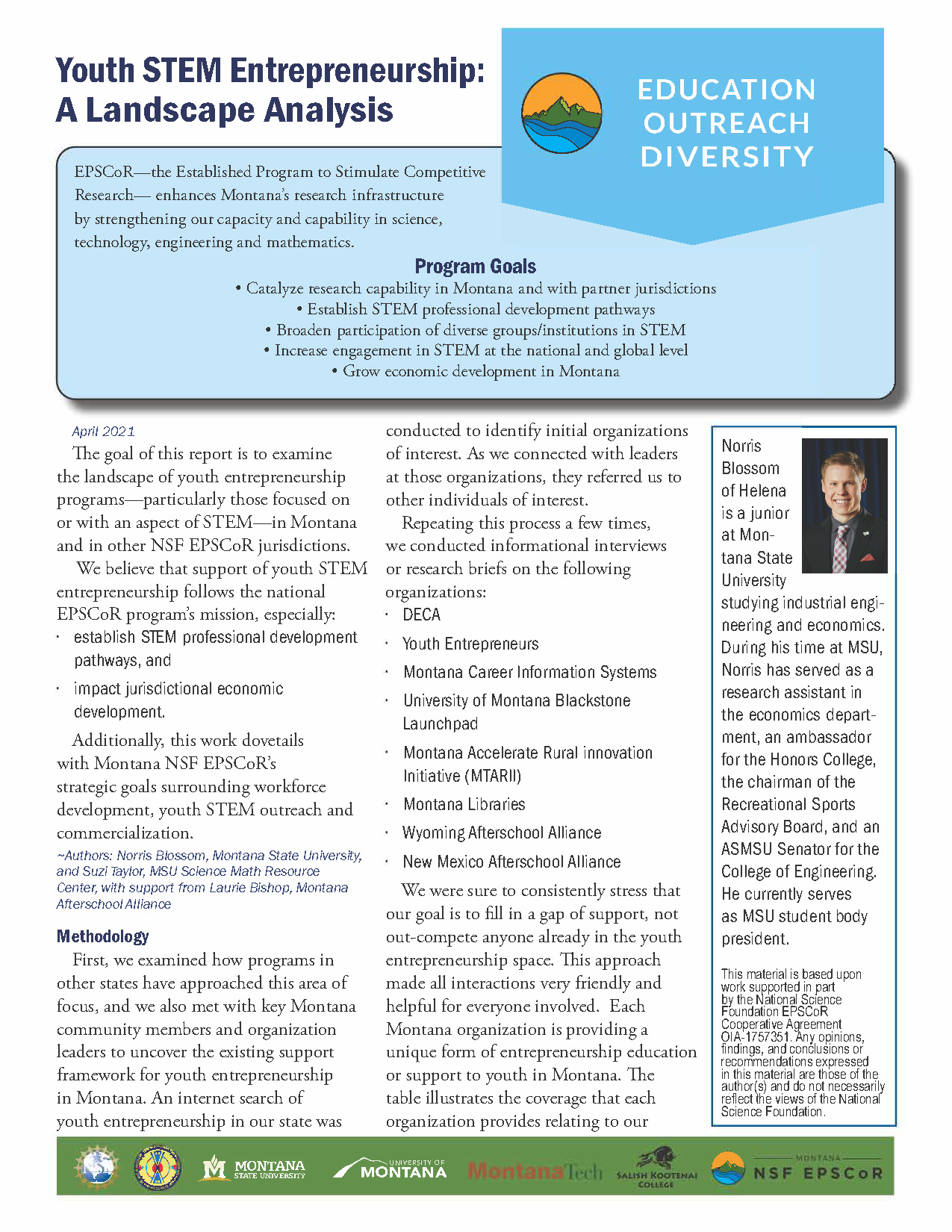 The goal of this report is to examine the landscape of youth entrepreneurship programs-particularly those focused on or with an aspect of STEM-in Montana and in other NSF EPSCoR jurisdictions.
We believe that support of youth STEM entrepreneurship follows the national EPSCoR program's mission, especially:
establish STEM professional development pathways, and
impact jurisdictional economic development.
Additionally, this work dovetails with Montana NSF EPSCoR's strategic goals surrounding workforce development, youth STEM outreach and commercialization.
Authors:
Norris Blossom, Montana State University; 

Norris Blossom of Helena is an MSU student in industrial engineering and economics. He currently serves as MSU student body president

Suzi Taylor, MSU Science Math Resource Center
With support from Laurie Bishop, Montana Afterschool Alliance