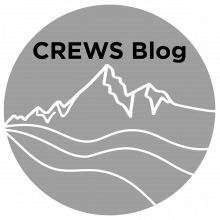 Meet Gabriella Cameron, an undergraduate student who participated in the 2022 CREWS Workforce Development internship program!
The CREWS Workforce Development internship program supported five undergraduate students from across the Montana University System during Summer 2022 (Year 4 of the project). These students worked directly with government agencies, NGOs, and other private businesses in Montana who are partners of the CREWS project. Through the internship, students gained hands-on experience in different sectors and further explored their academic, professional, and personal interests and goals.
CREWS Workforce Development Intern: Gabriella Cameron
Internship Host: Sunburst Sensors
Supervisor(s): Reggie Spaulding, Mike DeGrandpre
Gabriella Cameron is a senior at the University of Montana majoring in Biochemistry. Originally from Helena, Gabriella enjoys spending as much time outside as possible doing activities like backpacking, camping, hiking, and floating. She also enjoys indoor hobbies like spending time with her ragdoll cat, Prince Maximillian, caring for her aquarium, reading, working on her novel, and oil painting.
Gabriella found out about the CREWS Workforce Development internship opportunity when the Spring 2022 semester was ending and she was looking for a summer internship. One of her professors, Dr. Mike DeGrandpre, offered her the opportunity to work with his company, Sunburst Sensors, through the program. Gabriella says, "I have a keen interest in water science (especially ocean), so it was a perfect fit for me."
Sunburst Sensors is a Missoula-based company that builds accurate and easy-to-use equipment to measure carbon dioxide, alkalinity, and pH in both freshwater and saltwater systems. At Sunburst Sensors, Gabriella worked with a newer device the company is developing known as the pHyter, which is a hand-held pH measuring device that has been shown to be more accurate than traditional probe-based designs. During her internship, Gabriella built orders for shipment, tested the pHyter devices, and worked to improve the design of the devices by changing their cuvette shape and volume.
Gabriella enjoyed working with everyone at Sunburst Sensors and spent most of her time with Reggie Spaulding, who currently leads the pHyter project at the company. As Gabriella says, "My overall experience at Sunburst Sensors was incredibly positive. I was able to use many different machines and instruments to accomplish my goals and gained quite a bit of confidence in doing so. Everyone was kind and willing to help when I needed it. I enjoyed the freedom to experiment with the devices, and to be able to guide my own learning as I accomplished established goals."
Gabriella's experience bolstered her confidence as a scientist and helped her learn about the balance between working individually and working on a team. Overall, the internship encouraged her to pursue a path in research and focus on her passion, water chemistry, so she can find truth in the natural world and help protect local watersheds. Gabriella will continue to work with Sunburst Sensors as a part-time employee moving forward, and plans to work on a Master's degree in Molecular Genetics in the future.