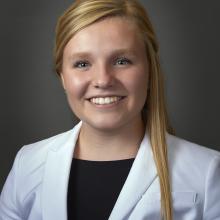 Sheridan Johnson is a senior studying Agricultural Education – Communications and Political Science at Montana State University (MSU). Sheridan is originally from Montana and grew up on a wheat farm east of the town of Conrad. In her spare time, she loves to spend time with friends, eat lots of dessert, travel to new places, and pick up new hobbies, especially if she can make a gift for a friend or teach someone to knit.
In her two majors, Sheridan has covered a lot of ground in a lot of fields. When asked what inspired her to apply for the CREWS Innovation and Commercialization internship, Sheridan says "Last spring, I finished up a class on rural politics and loved learning about rural places from a political perspective. Maintaining and improving the vitality of rural communities is extremely important to me, and I want to be able to do my part one day! On the other side, the [agriculture] portion of my degree is in the Department of Agricultural Education, although the curriculum focuses a lot more on education in more nonformal environments – basically anything that isn't structured, in-class, formal K-12+ education. After reading through the job description [for the internship program], it seemed like the schedule was flexible, I could play a key role in shaping the details of my position, and it merged my passions for education and rural communities."
During her internship, Sheridan focused on a project called Small Town STEM, with Suzi Taylor, Director of the Science Math Resource Center at MSU, as her supervisor. "[Suzi] has done considerable work on this subject already," says Sheridan. "She is a wealth of knowledge and ideas when it comes to STEM education and has a clear passion for this subject." In December 2020, Suzi and Sheridan completed the NSF I-Corps training and conducted introductory interviews on the topic. However, before Sheridan and Suzi could jump into implementing their ideas on how to improve STEM education in rural communities, they had to know what they were working with. Much of Sheridan's role in the internship was doing research on this topic, and she was able to talk to several small-town librarians, extension agents, and afterschool program coordinators, as well as analyze successes, challenges, and characteristics of nonformal programs.  Sheridan ultimately combined the Small Town STEM project with her senior thesis for her degree program in Agricultural Education, culminating in a final research paper in Spring 2021 titled "Exploring nonformal STEM education programs in rural Montana."
When thinking about how the CREWS internship fits into her interests and goals, Sheridan says "As I mentioned, I am extremely passionate about the vitality of rural communities. I think that there is a unique connection between STEM and agriculture – without STEM innovations, agriculture would not be where it is today. Without transformations in environmental science and animal science, agriculture would not be as productive. I'm also passionate about education and I think connecting agriculture – a topic often important in rural Montana communities – with the abundant opportunities found in STEM fields is a crucial point. I want to help make that happen and hope my research project aided in that process in some way."
Sheridan has one semester left in her degree programs and is beginning to think about what comes next. She knows she wants to help people and thinks education is a great way to do that, but she would also love to travel for some time after graduation. The internship program helped Sheridan reflect and find out what things she truly enjoys, and she thinks she could assist with STEM or Agricultural Education somewhere across the globe before returning to Montana to serve rural communities across the state. The internship also helped Sheridan gain further experience in research, and she has explored the idea of pursuing a Master's degree in International Agriculture or Global Food Security in the future as well.
Sheridan sums up her experience in the CREWS Innovation and Commercialization internship program by saying "This is just one more step in the right direction! Overall, I loved the environment and flexibility of the I-Corps program. I think it was a little different coming at it from more of a social science angle rather than [some of the other] sciences in the [Montana NSF EPSCoR] programs, but it was a great experience! I was able to learn a lot about a topic I am passionate about as well as the greater NSF program, all with the help of my awesome boss Suzi."