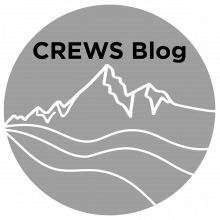 Meet Makenzy Gilsdorf, an intern with the 2021 CREWS Undergraduate Research Internship program!
The CREWS Undergraduate Research Internship program supported ten undergraduate students from across the Montana University System during Summer 2021 (Year 3 of the project). These students worked directly with a CREWS advisor to assist with research on a particular aspect of the project, gain hands-on field and lab experience, and further explore their academic, professional, and personal interests and goals. 
CREWS Research Intern: Makenzy Gilsdorf
Internship Advisor: Dr. Mike DeGrandpre
Makenzy Gilsdorf is a Senior at the University of Montana majoring in Chemistry. Originally from Billings, MT, Makenzy enjoys the outdoors, playing tennis, and ice cream. Makenzy's academic pursuits inspired her to apply for the CREWS undergraduate research internship, and the CREWS project's mission aligned with her interest in advancing STEM education along with identifying real-world problems in Montana. 
Makenzy's internship project focused on analyzing the differences between measured and calculated pCO2 by measuring the pH, total alkalinity, temperature, and ionic strength of water samples. Makenzy used two pH measurement methods, spectrophotometric pH and a pH electrode, to understand the effect of the pH measurement on the calculated pCO2. 
Over the course of the summer, Makenzy's main goals were to gain lab experience and learn how to analyze data. "This experience has taught me how to conduct research and analyze the data I collected in an effective manner," said Makenzy when asked about her internship experience. "Conducting research on my own was a beneficial way to advance my skills in the scientific field."