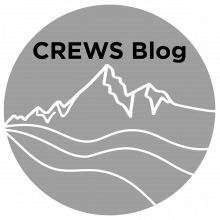 Meet Bailey Underwood, an intern with the 2021 CREWS Undergraduate Research Internship program!
The CREWS Undergraduate Research Internship program supported ten undergraduate students from across the Montana University System during Summer 2021 (Year 3 of the project). These students worked directly with a CREWS advisor to assist with research on a particular aspect of the project, gain hands-on field and lab experience, and further explore their academic, professional, and personal interests and goals. 
CREWS Research Intern: Bailey Underwood
Internship Advisor: Dr. Ben Colman
Bailey Underwood is a senior at the University of Montana (UM) majoring in Wildlife Biology and minoring in Microbiology. A self-described "military brat that has moved all over," Bailey likes to hike around Missoula, keep bees, ride horses, paddleboard, and travel. 
Bailey was inspired to apply for the CREWS undergraduate research internship because "I was excited to try and do my own research for the first time. I enjoy trying new things and always challenging myself." In her internship, Bailey worked in the Freshwater Ecosystems Lab at UM with Dr. Ben Colman as her advisor. Her project was focused on addressing the question of how the community composition of algae changes throughout the growing season along the Upper Clark Fork River. She was also able to work in collaboration with the Valett Lab at UM for sampling and sample processing. 
Bailey enjoyed collecting samples from the river and looking at all of the different types of algae under the microscope, exclaiming "Diatoms are fascinating and underrated!" About her CREWS internship experience, Bailey says "I am glad I got the chance to try something new in a field I do not have much experience in. My lab mates were awesome to work with and I feel as though I can now better grasp what research entails and what a graduate school experience might look like."