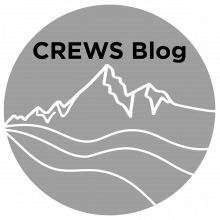 Meet Sam Turner, an undergraduate student who participated in the 2022 CREWS Workforce Development internship program! 
The CREWS Workforce Development internship program supported five undergraduate students from across the Montana University System during Summer 2022 (Year 4 of the project). These students worked directly with government agencies, NGOs, and other private businesses in Montana who are partners of the CREWS project. Through the internship, students gained hands-on experience in different sectors and further explored their academic, professional, and personal interests and goals. 
CREWS Workforce Development Intern: Sam Turner 
Internship Host: U.S. Geological Survey (USGS) 
Supervisor(s): Travis Schmidt and Ashley Bussell (USGS), Dr. Ben Colman (UM) 
Sam Turner was born and raised in Cleveland, Georgia, and moved to Missoula in 2018. He is currently a senior in the W.A. Franke College of Forestry and Conservation at the University of Montana. He is pursuing a double major in Ecosystem Science & Restoration and Wildlife Biology with a concentration on aquatic systems. In his free time, Turner spends his time at the river fly fishing or snorkeling. Turner became interested in the CREWS workforce development internship because he wanted to gain a greater understanding of how science is conducted outside of an academic setting.  
Turner worked with Travis Schmidt and Ashley Bussell of the U.S. Geological Survey (USGS) to study the fluxes of aquatic invertebrates in the Upper Clark Fork River. Their goal was to better understand the risks associated with riparian consumer exposure to metals in emergent insects. This internship exposed Turner to operations within the USGS and allowed for a hands-on perspective of working within a federal agency.   
This internship was a great fit for Turner because he both studies river systems and spends his free time enjoying these rivers, so this experience directly aligned with his academic, professional, and personal goals and interests. "I would like to say thank you to Travis and Ashley for allowing me to join them this summer," Turner says. "I would also like to extend a special thanks to Professor Ben Colman at UM for his role in facilitating a successful internship experience."