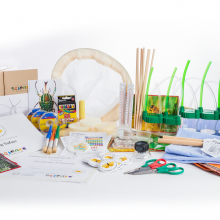 Do you work with youth in an out-of-school program in a Montana small town?
Would you like financial support to attend a Science Action Club workshop and bring back STEM resources for your community?
In partnership with the Montana Afterschool Alliance, we are pleased to offer travel support to two out-of-school programs to attend the Science Action Club workshop in Spokane, Washington on Feb. 10 and 11, 2020.
As part of its "Small Town STEM" initiative, the Montana NSF EPSCoR program is offering travel support up to $500 to out-of-school programs from small towns in Montana to attend the training Feb. 10 and/or 11 in Spokane, Washington. (Please first learn more about the training, as there are a few options (Bug Safari on day one; Bird Scouts on day two; or do both). Workshop registration and kit materials are heavily subsidized but still require a purchase by your program.)
Two Montana communities will receive travel support from Montana NSF EPSCoR up to $500 that can be used for:
Registration to the Science Action Club Workshop(s)
Mileage reimbursement
Overnight lodging in Spokane
Meals while traveling (at Montana per diem rates)
*Please note: Travel support will be issued as a reimbursement to you based on receipts turned in after attending the workshop. This reimbursement can go to you personally or to your program; a W-9 form is required.
Application deadline is Friday, Jan. 24 at noon. Participants will be notified by Monday morning, Jan. 27 and will then need to register themselves directly for the SAC workshop.
This initiative is part of Montana NSF EPSCoR's Small Town STEM initiative (read more below). Science Action Club was originally implemented in Montana via the Montana Girls STEM Collaborative, an outreach program of Montana NSF EPSCoR.
For any questions about this program, please contact Bethany Steinken with the Montana Afterschool Alliance at bsteinken@mtafterschoolalliance.org or Suzi Taylor with the MSU Science Math Resource Center at taylor@montana.edu.
What is Small Town STEM?
National studies have shown that youth in rural communities have fewer opportunities for high-quality STEM learning than their peers in urban and suburban areas. In a Montana State University focus group, some students who hail from small towns and reservation communities reported that they grew up with no STEM programming other than the basic science and math courses offered in school (and smaller schools generally offer fewer STEM courses overall than larger schools).
Through Small Town STEM, Montana NSF EPSCoR strives to build an infrastructure that specifically reaches youth in these rural communities by:
increasing youth awareness of and interest in STEM careers and studies
introducing youth in small towns to STEM careers, activities and role models, thus increasing their STEM confidence and STEM identity
supporting their adult teachers and mentors via professional development, STEM materials and training; and
creating a cohort of adults dedicated to STEM who can sustain STEM programming after pilot initiatives
building a system and network for sharing STEM resources of particular interest to people in Montana's small towns.
Ultimately, we hope young people from Montana's rural communities are made aware of the broad range of good careers available in science, technology, engineering and mathematics and know how, if interested, to pursue a career in STEM.
If you are interested in Small Town STEM in general, please contact Suzi Taylor with Montana NSF EPSCoR and the MSU Science Math Resource Center at taylor@montana.edu