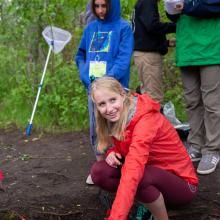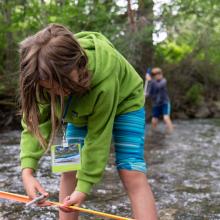 My name is Olivia Miller and I'm a student at Bozeman High School. In early June of 2019 I got the opportunity to work with the wonderful Rose Vallor studying streams in Bozeman, Montana with the Peaks and Potentials camp at Montana State University.
We worked with a group of 15 wonderful kids learning about macros (large water bugs and larvae), water quality testing, and stream flow. Not only was this a great experience for me learning about what the different macros in each stream mean about the pollution levels in each location, due to their tolerance levels of more acidic water and other circumstances, but I got to learn lots about the watershed in my hometown.
This was a fantastic learning experience for me because I am aiming to become a marine biologist, which can be a hard goal coming from Montana, but learning about the freshwater ecosystems in my area was incredibly helpful!
I often work with kids because I'm a ski instructor at Bridger Bowl Ski Area, but there was something special about the middle schoolers we were working with. Seeing each of their individual interests whether it was catching macros and identifying them, taking water samples to test water quality and learning what the results mean, or doing trials and calculations to figure out the amount of water in cubic feet per second is flowing through the steam, all of the students were incredibly engaged.
Watching them was incredibly inspiring because they were all so motivated to learn even after a long day. Overall this experience was very rewarding in many different aspects and I'm so grateful that I had this opportunity.
~Editor's note: Olivia served as a Montana NSF EPSCoR-supported youth intern during Peaks & Potentials. Peaks is a summer youth program of MSU Academic Technology & Outreach, a long-time outreach partner of Montana NSF EPSCoR. Olivia is pictured in the red jacket.
Photos by Brendan Kristiansen, b@bek.sh