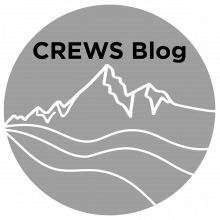 Field Notes on our Virtual Meeting at NSF
These notes describe our team's experience switching on short notice from an in-person meeting to a virtual meeting at NSF. We are sharing these informal notes in the event that it helps others prepare for similar changes. Please send any questions to info@mtnsfepscor.org.
Our Montana NSF EPSCoR RSV team was presented with the option of either an in-person meeting or switching to video conference a few days' before we were scheduled to depart. We chose video conference. This meeting was a day-long panel review, a 'Reverse Site Visit' (RSV). There were 11 people in our group and 5 panelists serving the NSF, as well as NSF EPSCoR Program Officers.
We discussed the necessity of being hardwired versus what challenges may come up if wifi was spotty.  For some participants on the Montana-side, wifi was the only option.  
NSF used Zoom and set up the meeting from their end. NSF also set up a Zoom test-meeting the day before the RSV so we could do audio/video checks and make sure everyone could log in. This was very useful. 
For the test-meeting (day before our RSV), NSF wanted us to all be in the exact location we would be in on the day of the presentation. Our team was distributed across three campuses in Montana: University of Montana (UM), Montana Technological University (MTU), and Montana State University (MSU). MSU had originally planned to gather together in a conference room, but the room was not available for the practice test, so the MSU part of the team practiced (and presented) from their offices, homes, or other designated rooms. UM teammates gathered in one conference room. One individual at MTU was in his office. All set-ups worked well. During the test run we also had an opportunity to pass 'presenter-mode' back and forth and clarify with NSF any tech or logistics questions regarding the virtual arrangement. Passing 'driving-capability' (presenter-mode) back and forth was seamless and rapid.
NSF program director Anne Stapleton led the technology, and was excellent! NSF controlled audio and muted/unmuted all attendees as needed for the different sessions, though we could also unmute ourselves during the Q&A as well as control our own video on/off. Some of us turned our cameras off while others were presenting and/or speaking (listened by audio only) and others stayed on video.
Some people used headphones; others used the computer audio (NSF advised headphones). All worked well for the Montana team, although it was moderately hard to hear a few of the panel reviewers.
NSF allowed our team to be the 'presenter' and advance the slides in our presentations. In advance of the meeting, we strategized quite a bit on how we would do this. Most slides/presentations were run from the "control room" at UM (the conference room), but a few of our presenters advanced their own. Both worked well. 
For timekeeping, NSF typed remaining minutes in the Zoom chat AND spoke the time out loud if needed. We also had an internal timekeeper on our team -- they gave a verbal 5 or 2 minute warning for presenters who were sharing a presentation block. 
Our team used a Slack channel on the side (a tool we had been using throughout the project). This allowed us to share some private notes outside of the Zoom chat room as the presentation was progressing. We also used a Google Doc to take extensive notes and to write down the reviewers' names and affiliations. We noted issues and questions that might come up later during the intensive question period.
The side channels were nice to have -- actually better than if we presented in person where it is harder to take notes and talk with teammates. However, it was easier to make use of these if you were at your own laptop than if you were part of the group in the conference room.
We set up three separate phone conference calls via GoToMeeting so our team could do a debrief at lunch time, touch base later while the panel was meeting, and finish the day with a final conversation.
For the Q&A time blocks, we appointed our PI as the point-person for all questions; he would either answer or name someone from our team to answer to keep us all from answering at once. Or to avoid dead silence.
We had an additional Montana team member in the conference room to help with technology, our 'IT specialist'. He was not scheduled to go to DC, so we wondered if he could answer a question from the review panel if it came up. It ended up not being an issue - there was not a question directed to him.
The Reverse Site Visit schedule was still on Eastern Time Zone. One team member transposed the original Eastern Time schedule into Montana time so we had it in front of us. The panel still stayed precisely on time, even though the delivery method had changed significantly.
All in all, despite the scrambling and anxiety about using technology instead of presenting face-to-face, the day went off without a hitch. We hope these informal notes are helpful to other teams who will find themselves in the same situation.