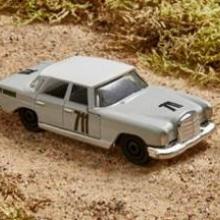 The Montana Girls STEM Collaborative, an outreach initiative of Montana NSF EPSCoR, has been selected for a national program called No Limits, which uses Matchbox cars to help tackle the stereotype of what is typically a "boy toy" versus a "girl toy."
The program was developed by the National Girls Collaborative, Mercedes-Benz and toy-maker Mattel, which created a Matchbox car to commemorate a grueling 1962 road race that was won by a woman at a time when women barely participated in—let alone won—such competitions. The car, a 1962 Mercedes Benz 220SE, was driven by Ewy Rosqvist as she became the first woman to compete in and win the Argentinian Grand Prix, shattering records and the notion that women could not compete. The goal of No Limits is to show children, particularly young girls, that they can aspire to be and do anything they desire.
In Montana, the program is led by Montana State University's Science Math Resource Center and the University of Montana's spectrUM Discovery Area, which also co-lead the Girls STEM Collaborative. Other partners include the Montana Afterschool Alliance, Helena College, and ExplorationWorks science museum in Helena.
The Science Math Resource Center, which is located within the Department of Education, will work with early childhood education students (pre-service teachers) and faculty members at MSU to create programming for using the cars with young children.
spectrUM will use the cars at EmPower Place, a hands-on learning center located within the Missoula Food Bank, which is one part community center, one part science museum, one part food hub, and one part library
The Montana Girls STEM Collaborative is a statewide network that was founded in 2012 as an outreach program of Montana NSF EPSCoR in order to bring more science, technology, engineering and mathematics opportunities to Montana youth. To learn more about Montana Girls STEM, visit www.facebook.com/MontanaGirlsSTEM or sign up for the quarterly e-newsletter at http://bit.ly/girlsstem-news