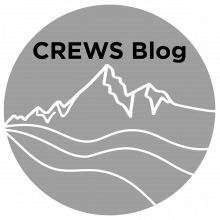 Meet Hope Sampson, an undergraduate student who participated in the 2022 CREWS Undergraduate Research Internship program!    
During Summer 2022 (Year 4 of the project), six undergraduate students participated in CREWS research through the CREWS Undergraduate Research Internship program and the National Science Foundation's (NSF) Research Experiences for Undergraduates (REU) program. These students worked directly with CREWS faculty and graduate students to assist with research on a particular aspect of the project, gain hands-on field and lab experience, and further explore their academic, professional, and personal interests and goals.   
CREWS Research Intern: Hope Sampson  
Internship Advisor: Dr. Maury Valett  
Hope Sampson is from Wellsboro, PA, a little town nestled in the Northeast reaches of the Appalachian Mountains. She is currently a sophomore attending the University of Montana in Missoula, Montana, majoring in Environmental Science. Sampson is a big fan of the outdoors, and she enjoys skiing, swimming, backpacking, and climbing. She also loves spending time with her friends, cooking, and singing.  
Sampson was inspired to participate in CREWS research by talking to her professors. Through those conversations, she learned about the possibility of conducting undergraduate research and realized an individual REU project could give her valuable experience that would set her up to work on research other professors and/or graduate students are conducting in the future.   
In her summer research project, Sampson studied the concentrations of dissolved organic carbon (DOC) in aquatic systems and biota sources and how they contribute to the overall DOC within the Upper Clark Fork River. She also calculated SUVA254 values for each of her samples to determine the relative aromaticity of sources. In the process of her research, Sampson worked closely with Dr. Maury Valett, as well as with the other REUs, technicians, and graduate students associated with the lab, including Lark Olson, Rafa Feijo Lima, Abigail League, Austin Denning, Adam Hensley, and Matt Nichols.  
Sampson said that her project was challenging but intellectually stimulating. She gained invaluable experience learning not only about different facets of aquatic ecology but also the process of conducting research and all the difficulties that come with it. "My REU experience connected me with some incredibly accomplished researchers and has presented me with many networking opportunities that will serve me well as I move forward in my career in natural resources," Sampson says. "It has also given me amazing footing with respect to qualifying for future summer jobs and even when considering the possibility of graduate school in the future. My work this summer was not at all what I expected it would look like, but it turned out to be a great introduction to the world of research, and all the places it could take me!"