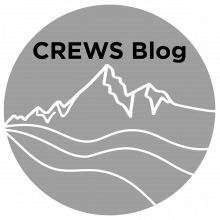 Meet Teagan Leitzke, a PhD student at Montana Technological University and a member of the EPSCoR Track 1 research team. In this interview, Teagan shared information about her work, studies and career pathway with the Montana Girls STEM Collaborative, an outreach program of Montana NSF EPSCoR. Her interview is reprinted here in order to share career pathways with young people in Montana.
What is your name, and where did you grow up? 
My name is Teagan Leitzke, and I am a Ph.D. candidate at Montana Technological University. I grew up in Wausau, WI and yes, I do love cheese.
What do you do for your job?
I am a graduate research assistant, working towards my Ph.D. in Materials Science. My research is part of a statewide project, working on restoration and improving water quality in affected areas of Montana.
I work on improving water quality in the Upper Clark Fork River, modifying a continuous flow material recovery system to remove contaminants, such as copper and lead, from waters.
Goals for my project include developing an economical and environmentally friendly technique for removing contaminants from affected waters and developing a contaminant recovery method to reduce waste production in the system.
Within the GRA position, I also enjoy participating in outreach opportunities, where demonstration days on campus are one of the awesome ways we get to show high schoolers, prospective students, and undergraduates what we do in the lab. I have also been a research instructor for the Upward Bound program, where we have the opportunity to bring high school students into our lab and do a research project with them for several weeks during the summer.
What did you like to do as a young person? At what age and how did you know you wanted to be a scientist?
I enjoyed being transported to new worlds and going on daring adventures through reading and baking the world a better place by making goodies for my family and friends. I also enjoyed time outside and the peace and quiet that came with a walk through the neighborhood.
By the time I was in fifth grade, I knew I wanted to pursue science, but at that age, I wanted to explore the universe and be an astronaut. As I got older, being exposed to science demonstrations in school and watching shows like Bill Nye the Science Guy and MythBusters kept me passionate about science. These activities left me wanting to put on a lab coat (and safety glasses, of course!) and do experiments, exploring the limits of what we could achieve.
While my dream of being an astronaut may not have happened yet, my education has taken me in many directions that I never expected. I started out in high school loving my physics class and decided to get a Bachelor of Science in physics.
From there, I really wasn't sure what I wanted to do, so I applied to a bunch of different graduate programs that had projects I was interested in, leading me to the materials science program at Montana Tech. I never thought I would be working with such a big group of people, trying to improve the environment in Montana, but it has given me some great experience and taught me a lot about research environments in an academic setting.
Who were some of the role models, mentors or other adults who influenced you as a young person?
My parents and teachers were very supportive as I was growing up, encouraging me to pursue my interests in science and math. Two of my great uncles taught science and one even worked with NASA for a bit, which influenced my passion for science at a young age as well.
I also had several female friends that wanted to pursue math or science, which made it easier to work through harder classes and not be intimidated by the male-dominated science and math fields, especially during high school and college.
What advice would you give to a Montana kid who is interested in a career like yours?
My first piece of advice would be to get involved in as many opportunities that interest you as you can. I am an introvert and regret not getting involved in more clubs, taking risks on things that might not work out, or applying for research/internship opportunities, preferring to stick to what I was comfortable with.
I know that figuring out what options are out there can be overwhelming, but if you don't start looking, you won't get anywhere. I probably missed out on a lot of opportunities and experiences that would have helped me in the long run because I was too afraid to get out of my comfort zone and give them a shot, so try new things and don't be afraid to make mistakes.
Also, I am a perfectionist, so getting a 'B' (or lower) on an assignment or test absolutely crushed me, but a few bad grades are not the end of the world. One bad grade every now and then will not destroy your life, so it's okay to not be at your best all the time. Knowing your limits and making sure your mental and physical health are intact is just as important as your grades.
One last piece of advice I have is to
Follow your heart and do what makes you happy, not what you think will make everyone else happy.