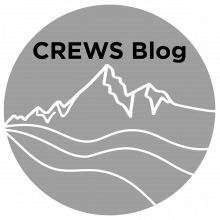 Meet Katelyn (Katie) Duncan, a graduate research assistant and PhD student in the chemistry department at Montana State University and a member of the EPSCoR Track 1 research team. In this interview, Katie shared information about her work, studies and career pathway with the Montana Girls STEM Collaborative, an outreach program of Montana NSF EPSCoR. Her interview is reprinted here in order to share career pathways with young people in Montana.
Where did you grow up?
I grew up in West Point, Utah
What do you do for your job?
My job is a Graduate Research Assistant working towards a PhD in Chemistry. I use math and chemistry to study how herbicides interact with model biological membranes. We spray herbicides on the grass and sometimes the herbicide leaks into the ground water. My project looks at what happens when those herbicides that are in the groundwater interact with an organism at the molecular level. 
What did you like to do as a young person? At what age and how did you know you wanted to be a scientist?
When I was a little girl, I loved learning about math and science in school. My science fascination was encouraged by my dad who was a botanist and always encouraged me to ask questions about why things are the way they are. I asked all the questions growing up from why the grass was green and the sky was blue to why birds don't get shocked when they land on electrical wires.
My dad encouraged me to ask questions; however, he wouldn't always tell me the answer right away. He taught me how to find the answer to the question I was asking by either having me do my research on it or find a way to test my question. As for my math fascination, it evolved over time. The more I learned the more I realized how beautifully math always works out and how the answer can be found through several different methods.
Looking back, I didn't realize until I was older that I had a family that loved science and essentially taught me to be a scientist. Despite learning about science my whole life, it wasn't something I realized I wanted to do.
Growing up, when I wasn't in school, I was on the soccer field. Soccer was my passion. My goal as a little girl was to get a scholarship to play college soccer and in my junior year of high school, I signed to play collegiate soccer. When I got to college, I was told I had to pick a major and I had no clue what I wanted do, I even debated getting a degree in communications but was still undecided. I took several different classes my freshman year and I found that I was fascinated with chemistry. I chose chemistry as my major and really enjoyed learning all the different types of chemistry throughout my college career.
When the time came for me to graduate college, I wanted to continue to learn about chemistry. I decided then to go to graduate school to continue learning chemistry.  Looking back, it was one of the best decisions I had ever made.
Chemistry wasn't always the easiest subject for me, it was something that challenged me, and I enjoyed learning about. And that challenge and enjoyment was something that hasn't gone away. I never really had a specific time or event that made me want to be a scientist, it was just something I realized I always enjoy learning about!
Who were some of the role models, mentors or other adults who influenced you as a young person?
My parents and soccer coaches always pushed me to be the best that I can and to never stop challenging myself as well as to always work hard.
What advice would you give to a Montana kid who is interested in a career like yours?
My advice to anyone looking for a career in science would be to always keep learning, growing, and to work hard. Ask all the questions and if you can't find the answer right away, find a way to find answer it. Always keep learning!
For some people choosing a career in science was an obvious decision and that is great. For me, it wasn't an obvious decision and that is okay. I started doing chemistry because it was something I enjoyed doing and it challenged me, not because it was my goal to become a scientist when I was little. That same excitement I have for my work never went away. I encourage anyone to follow what they find exciting and intriguing and work hard at it. Somedays are easier than others but don't lose that excitement or curiosity!