Meet Dr. Arica Crootof, Assistant Professor of Environmental Sustainability at the University of Montana Western and a member of the EPSCoR Track 1 research team. In this interview, Dr. Crootof shared information about her work, studies and career pathway with the Montana Girls STEM Collaborative, an outreach program of Montana NSF EPSCoR. Her interview is reprinted here in order to share career pathways with young people in Montana.
Where did you grow up?
I grew up in Saratoga Springs, NY. And looking back, it's easy to see where my early love of water came from. My grandparents lived on a lake nearby and it continues to be one of my favorite places to visit.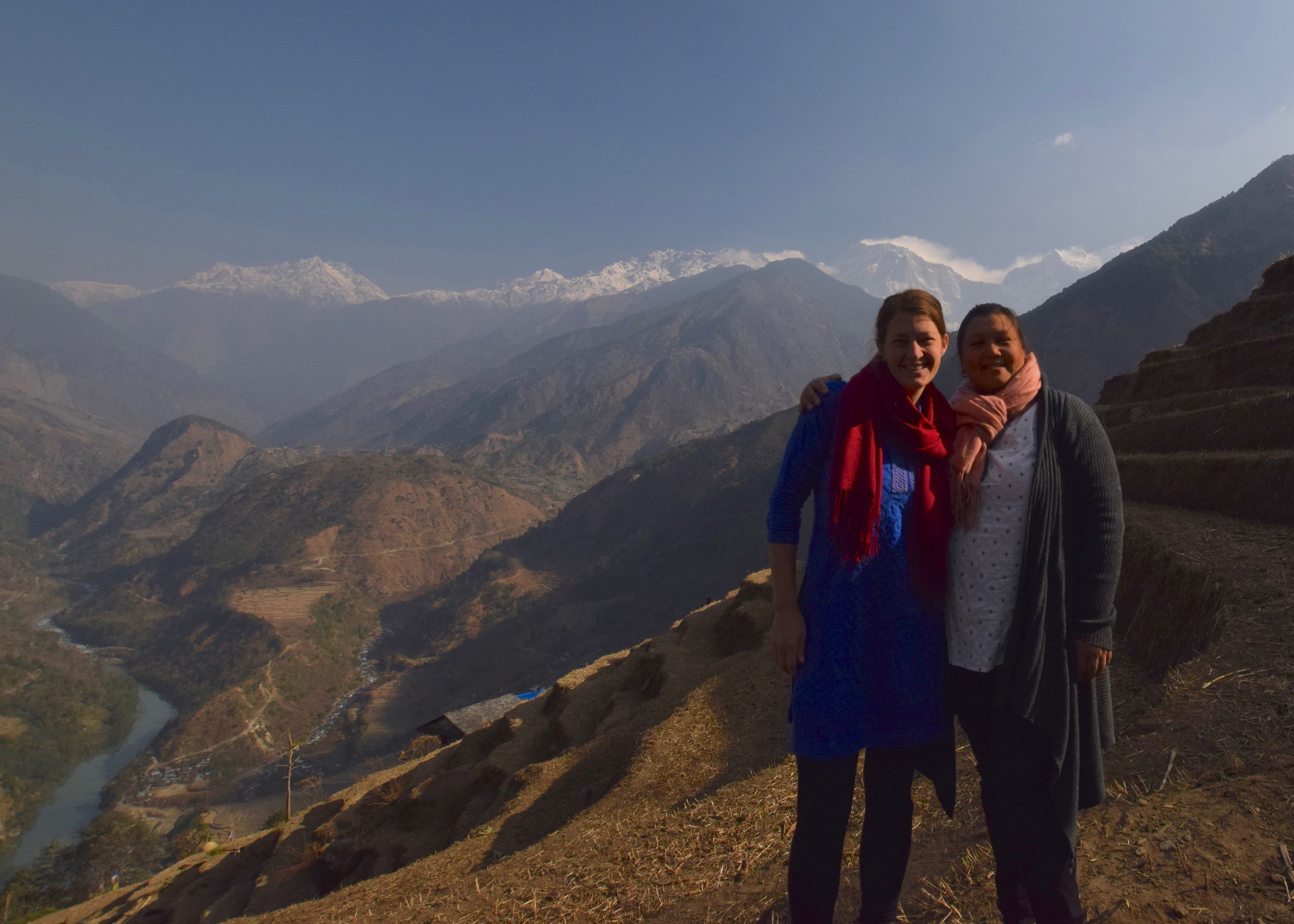 What do you do for your job?
I am a college professor of environmental sustainability. Most of my work revolves around creating learning experiences that aim to inform and inspire students. In my classes, students explore how human activities interact with the natural world and learn how to work with others to develop sustainable solutions that can help protect and enhance natural resources.
Research is another important part of my job. My research focuses on asking questions that can help improve how we manage water resources. Locally, I am working with students at the University of Montana Western to understand how the public perceives water quality and public health concerns of the Warm Springs Ponds outside of Anaconda, Montana. This research will be used to help inform future management plans of these treatment ponds.
I also work in Nepal where I study how to promote hydropower development that works for, not against, the farmers who live in these river basins and depend on these rivers for their livelihood.
What did you like to do as a young person? At what age and how did you know you wanted to be a scientist?
I loved and still love to socialize with friends. Before cell phones and texting, I spent my after-school hours instant messaging with friends online. I also played sports and enjoyed hiking and skiing.
I didn't know environmental science as a field existed until I was applying to colleges. I signed up for Environmental Sustainability for my first college class and was hooked. I was learning how to use science to create social change, which blended my love of science and history.
I think it's important to note that while I liked my science and history classes growing up, I really struggled in math classes. That said, in graduate school I did go on to take a lot of calculus that I enjoyed and did well in. My reason for wanting to learn changed and so did my study habits!
One summer in college, as part of an undergraduate research fellowship (REU), I was flown to the Luquillo Experimental Forest in Puerto Rico to study how road development was affecting sediment transport in mountain streams. I learned that as a scientist I could get paid to travel and learn. Again, I was hooked and then sought international research opportunities.
For my master's research in hydrology – the study of water – I traveled to Uzbekistan in Central Asia. Here, I was working with scientists from around the world, examining pesticide (DDT and Lindane) contamination in irrigation-fed ponds. Then, for my PhD research, I traveled to the Indian and Nepali Himalayas to research how run-of-the-river hydropower development is affecting rural farming communities. Using the science from my research, I am now working to promote practices that make this development more social and environmentally sustainable.
In all of the places I've traveled, I've met amazing young female scientists who are passionate about trying to understand the world we live in so they too can create change. These women are dear friends as well as colleagues and these days we stay connected via WhatsApp and Skype. 
While I've been able to collect important and interesting data, the thing I love most about my job is that I am continually challenged as both a teacher and researcher. I love new experiences, meeting new people, and learning about other cultures. I feel fortunate to have landed a job where I can revel in learning.
Who were some of the role models, mentors or other adults who influenced you as a young person? 
My grandmother, Baba, lived very frugally. She used very little and with what she did use, she then reused, reused, and reused. While I could admire her reusing cereal bag liners as wax paper, I do not recommend anyone reusing the Styrofoam plate that chicken thighs come in! Baba also loved to burn as much as she could, including plastic, because it 'just disappears'.  
While my grandmother instilled in me the principles of reduce and reuse, my education enabled me to look more critically at the environmental challenges we face and game me tools to actively work on changing policies and practices that support more sustainable and equitable resource management. And I learned exactly why burning plastic is so bad, not just for the environment but also for dear Baba's lungs!
What advice would you give to a Montana kid who is interested in a career like yours?
It's hard to know about the range of careers that exist, even within the sciences, so I recommend you find ways to get involved. Congrats, if you are reading this, you are already taking this important step! For every environmental issue – or just about any issue – there's an organization or few working on it. So find something that interests you and go learn about the people involved, the different perspectives on the issue and think how you want to get involved.