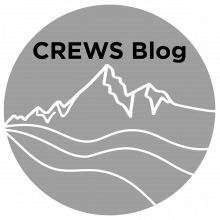 Researchers and outreach staff from Montana NSF EPSCoR shared new developments and opportunities with teachers from around the state of Montana at the annual Science Summer Institute professional development conference for educators on Aug. 11-13, 2021.
Dr. Rob Walker is co-principal investigator of the CREWS Track 1 project and a professor of chemistry/biochemistry at Montana State University. He served on a panel called Research in Action, which connected educators with research projects taking place at MSU. In addition to describing his work on the CREWS project, Walker also shared ideas for inspiring students in STEM, using research data in the classroom, and skills to build the STEM pipeline.
Suzi Taylor, EOD lead at MSU, presented during the Resources Roundup on EPSCoR's many opportunities for teachers, including the CREWS Junior Researcher program, the Land Use Explorers partnership with the EPSCoR Track II project, and the upcoming Datasets for Teachers online course with the Montana Office of Public Instruction.
The Science Summer Institute – typically held in person at MSU – was virtual this year due to COVID-19 restrictions. Teachers of all grade levels participated from communities throughout the state. The conference is hosted by the MSU Science Math Resource Center and School Services of Montana.