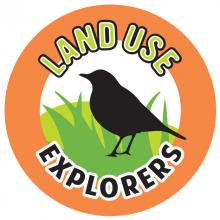 Kits created to inspire place-based science exploration are available for free to regional youth-serving organizations this summer thanks to a research and outreach collaboration between Montana State University, University of South Dakota and the University of Wyoming.
The Land Use Explorers kit is designed to teach upper elementary and middle school students about the land where they live. Youth-serving organizations in Montana, South Dakota and Wyoming can apply for free kits to use in summer programming. The kits are intended to encourage youth to learn about and explore the land where they live and play. They were created as part of an NSF EPSCoR Track II research project called WAFERx (Water-Agriculture-Food-Energy Research Nexus) in partnership with Montana NSF EPSCoR's Track 1 project, CREWS (the Consortium for Research on Environmental Water Systems).
Each kit includes a 40-page, full-color book with lessons on how the production of food, water and energy are connected to the animals, plants and humans who live on the land. The kit includes profiles of university scientists and engineers as well as an activity on citizen science for youth to carry out on their own. Each kit comes in a zippered pouch that includes a magnifying glass, observation journal, colored pencils, sticker and more.
"We are excited by the potential of the Land Use Explorers kit to inspire young people to think deeply about our Earth and how all its systems are connected through exploration in their own surroundings," said Selena Ahmed, MSU associate professor of health and human development and principal investigator for the WAFERx project. "We hope these STEM kits get students excited about science by inspiring them to see themselves as explorers, scientists and engineers."
The kits are free to organizations that can use them with youth this summer and provide a short feedback report to the researchers. Preference will go to organizations that are serving youth typically underrepresented in STEM, such as girls, minorities, youth with disabilities, or youth in rural areas. The kits can be used by youth gathering in groups or learning remotely. However, only organizations — not individuals — may apply for the kits at this time.
The deadline to apply for Land Use Explorers kits is June 21. For more information or to apply, visit waferx.montana.edu/land-use-explorers.html or contact Suzi Taylor with Montana State University at taylor@montana.edu.