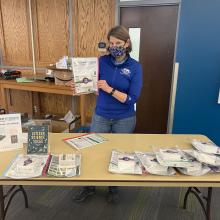 Citizen science connects scientists and everyday people to help accelerate research and discovery. It can involve one person or millions of people collaborating towards a common goal and is a valuable way to engage the university community and have the public learn about, participate in, and contribute to science through both informal recreational activities and formal research efforts.
To celebrate Citizen Science Month in April, Montana NSF EPSCoR, in partnership with the Science Math Resource Center, Montana State University Library, and others, gave away free citizen science kits on April 12 and 13 at the Library. Each kit contained the necessary materials and instructions to participate in five different citizen science projects, as well information on similar kinds of research at MSU and more ways to get involved in citizen science programs. 
An example of a citizen science project included in the kit is Crowd the Tap. This activity designed to ensure safe drinking water in the U.S. by identifying areas for tap water testing and infrastructure replacement. Participants help prioritize areas for testing and replacement by completing a simple survey about their home and connecting with others in their neighborhood and beyond who want to make drinking water safe for all. Like Crowd the Tap, the current Montana NSF EPSCoR CREWS project also focuses on understanding water quality across the state. By uniting faculty, students, and community partners, the CREWS project focuses on Montana's environmental water systems, the water quality impacts of hard rock mining, intensive agriculture, and energy extraction, and how people perceive and respond to water pollution problems.
If you want to get more involved with citizen science projects, an excellent resource to check out is SciStarter.org. This website is an online citizen science hub supported by the National Science Foundation that matches you with the right project based on your interest, location, and skills. On SciStarter.org you can find more than 3,000 projects that are searchable by location, topic, age level, and more.