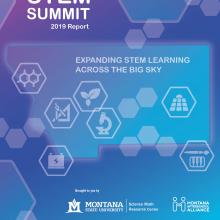 Montana NSF EPSCoR helped support STEM Summit 2019, a statewide gathering that welcomed 165 representatives from education, industry, government and non-profits to discuss how to advance science, technology, engineering and mathematics learning in Montana.
A report outlining findings from the event is now available for free download, and the data will be used to guide new Montana NSF EPSCoR efforts in STEM learning and workforce development.
The 16-page report includes barriers, ideas, resources and examples in four categories:
bridges between education and industry;

K-12 science standards;

incorporating creativity and the arts into STEM (often called STEAM); and

building a statewide STEM effort.
The report also includes an update on actions taken in the months following last summer's event, key takeaways, and suggestions for next steps. Also included are themes that emerged, such as STEM connections to agriculture, special education and environmental education; unique needs of rural and Indigenous communities as well as girls in STEM; key differences between afterschool and school-day STEM; and career development. The event was co-hosted by the MSU Science Math Resource Center and the Montana Afterschool Alliance.
Access the report online through the MSU Science Math Resource Center at https://www.montana.edu/smrc/STEM_summit.html 
Limited print copies are also available; please contact Suzi Taylor at taylor@montana.edu for information.