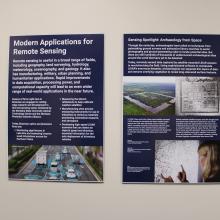 A new exhibit at Bozeman's American Computer & Robotics Museum highlights the dynamic field of remote sensing and features remote sensing applications and instruments developed and used by Montana NSF EPSCoR researchers and industry partners.
The "Earth from Above" exhibit provides museum visitors with an overview of remote sensing – from its origins to today – as told through a collection of key artifacts and biographies of some of the dynamic personalities who pioneered the technology. The exhibit is presented in conjunction with "Earth from Space," an informative photographic exhibit from the Smithsonian Institution Traveling Exhibit Services.
In addition to presenting early applications, such as pigeon photography, "Earth from Above" includes information on the use of remote sensing in MSU research projects, including engineering professor Joe Shaw's Montana NSF EPSCoR project that uses drone-captured images to monitor water quality.
Resonon Inc., a Bozeman-based firm and EPSCoR industry partner offering sensing systems for laboratory, outdoor and airborne remote sensing applications, donated several artifacts to the exhibit as a complement to the museum's own collection.
The exhibit also includes MSU Science Math Resource Center's partnership with NASA to capture localized atmospheric data and aerial imagery via 10-foot-wide kites. 
"Remote sensing is an exciting growth field, and this exhibit is especially relevant here in Bozeman," said ACRM Executive Director Eleanor Barker. "Our community is home to many university and industry groups that are developing and deploying cutting-edge optics technologies in research and commercial projects across the state and around the world."
Museum visitors are encouraged to engage with remote sensing through citizen science initiatives like NASA's GLOBE Observer, which allows participants to take photos and document land cover usage at sites in Montana and beyond. In partnership with the Science Math Resource Center and the Montana Science Center, the American Computer & Robotics Museum is also developing a geocache to be placed on the museum grounds to spur interest in this GPS-based recreational activity.
The American Computer & Robotics Museum is located at 2023 Stadium Drive. Visit the museum's website at acrmuseum.org for more information.