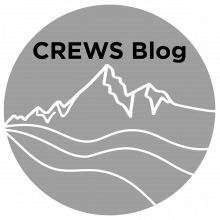 From Board Game to Video Game: Using game-based learning to help young people explore STEM pathways 
Think you can 'ace' your first semester of college? This is the question that challenges players as they strategically manage their time against college's demands in Success Prints Crash Course®, the college success board game. The objective? Maximize your GPA and social score while minimizing stress, earning enough money to pay for tuition and fees, and handling unforeseen life events. It's a lot to balance, but so is the life of a college student.     
With support from Montana NSF EPSCoR, the established board game's mechanics are now being transformed into a STEM-themed video game format by Dr. Tricia Seifert (MSU) and a team of student game developers at UM and MSU. The video game will highlight storylines that introduce players to STEM concepts and pathways, including many inspired by CREWS work on environmental water systems.  
Tasha Striker, an MSU Ph.D. student focusing on Adult & Higher Education, created the video game's STEM storylines and scenarios based on EPSCoR research, articles, interviews, and feedback from a Fall 2021 presentation [https://www.mtnsfepscor.org/projects/outreach-communications/game-based-learning] alongside other STEM resources. Other EPSCoR-supported student game developers include Jensen Hammack and Alexis Mitic from MSU and Spencer Buffum, David Gereau, and Eli Watts from the University of Montana. 
The web browser-based video game will debut in Spring 2023. 
Story-Gathering: Why and How 
Players' decisions affect how the video game story unfolds. Will your player go to college full-time or part-time? Will your player work while going to college? If so, how many hours? What will your player major in? Like a choose-your-own-adventure novel, players' answers to these and other questions throughout the game unlock different parts of the story. 
Why story? 
Storytelling is one of the most powerful ways to teach effectively through games (Fischer, 2019). Storytelling not only immerses players within a world but also allows them to take an active role as co-creators of the narrative itself. As such, games offer a promising avenue for the creation of innovative learning environments that can be empirically connected to a variety of learning outcomes including, knowledge acquisition, behavioral and skill development, affective and motivational improvements, and perceptual and cognitive advancements (Boyle et al., 2016).   
The Process  
Like the stories in our lives, storylines for the video game come from many threads of experience. Weaving these threads and displaying them as game dialogue is the result of the story-gathering process.  
The process of story-gathering for the college success video game started with an overview of CREWS Careers biographies on the Montana NSF EPSCoR website. During the story-crafting process, two major goals emerged. The first was to educate players about the variety of research and career opportunities available to STEM students. Special attention was given to sources of inspiration – passionate professors, teachers, parents, relatives, and counselors – mentioned in the CREWS bios. These components were implemented into the game narrative in the form of NPC (non-player character) dialogue, campus events and social meetups. 
A second focal point was the need to dispel common misconceptions and stereotypes about what it means to be a scientist, particularly for women or people who have been under-represented in STEM. In their bios, several CREWS students expressed common fears, stigmas, and hurdles that they encountered during their educational journeys, such as the idea that all scientists are naturally gifted in math and chemistry, that scientists aren't creatively inclined, that being a successful scientist and mother is nearly impossible, and that the work itself is always solitary and lonely. 
All in all, the college success video game story is an amalgamation of the authentic experiences of CREWS team members and other STEM students and professionals. Our hope is that this game will uniquely showcase these experiences in a way that inspires, demystifies, and destigmatizes scientific research and encourages a future generation to consider a career in STEM.